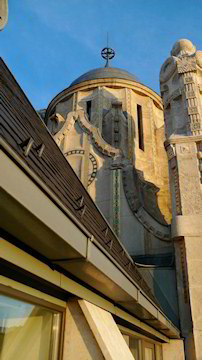 Als Gangaji und ich in den 80er Jahren zum ersten Mal nach Budapest kamen, war unser erster Eindruck der von Grenzsoldaten mit Waffen und dem Roten Stern an der Mütze, die in unserem Eisenbahnabteil das Gepäck durchsuchten, als wir die Grenze überquerten. (Das fühlte sich an wie eine Szene aus einem 50er-Jahre-Film.) Deshalb waren wir völlig verblüfft, als unsere Gastgeber in ihrer Wohnung ein kleines Treffen veranstalteten und wir alle zusammen im Kreis im Wohnzimmer den alten Hippie-Song "The River is Flowing" sangen:
The River is flowing,
flowing and flowing.
The river is flowing.
Back to the sea.
Oh, Mother carry me
A child I will always be
Oh, Mother carry me
back to the sea.
Als wir zu unserem ersten Treffen im Kommunistischen Gemeinschaftszentrum gingen, sahen wir einen netten Mann mit Pferdeschwanz, der Ragtime auf dem Klavier spielte. Ich sagte zu ihm, mit, er sähe aus wie ein kalifornischer Hippie. Seitdem hat Ákos alle meine Bücher ins Ungarische übersetzt und leitet inzwischen schon seit vielen Jahre Gruppen und Satsangs. Plötzliches Erwachen" heißt auf Ungarisch "Was willst du?" und findet seine Leserschaft hier in dieser Gemeinschaft.
Das Thema des Retreats war Desillusionierung. Der kommunistische Traum schien eine so  ideale und großartige Zukunft in sich zu tragen: die Verbrüderung der Menschheit. Jeder gibt, was er kann, und erhält, was er braucht. Gleiche unter Gleichen in einem nicht-hierarchischen Kollektiv. Aber wenn dies kein Traum in ferner Wirklichkeit ist, sondern etwas, was man tagtäglich lebt, zeigt sich, dass es ein Albtraum ist.
Dann setzt der Traum vom Kapitalismus ein. Materieller Reichtum, Komfort, Individualität statt Gruppendasein scheint ein wundervoller Traum zu sein, solange du nicht drin steckst und es als einen weiteren Albtraum erlebst.Unser persönlicher Traum von einer Zukunft mit Happy End durch einen liebenden Partner, liebevolle Kinder und perfekte Enkel, Erfüllung durch Arbeit, Karriere, Kunst und Familie ist ebenfalls ein wunderbarer Traum von der Zukunft. Aber er stellt sich nie so richtig ein. Von unserem persönlichen Traum desillusioniert zu sein, ist das Tor zum Erwachen aus allen Träumen.
Es ist fünf Jahre her, seit ich das letzte Mal hier gewesen bin. Es ist wunderschön, die Tiefe der Liebe, der Stille und der Wachheit in dieser Sangha zu sehen. Das bringt mein Herz zum Singen. Das Feuer der Freiheit und der Stille in Ungarn ist entzündet.
Ein Bericht von Ákos
Danke, lieber Eli!
Ja, es sind erstaunliche zwanzig Jahre mit vielen Veränderungen. Es fühlt sich gut an, ein Teil deiner Budapest-Geschichte zu sein. Die Menschen berichten mir über immer tiefere Erfahrungen als Nachwirkung des Satsangs und des Retreats mit dir.
Das Feuer der Stille ist wieder entzündet, sogar mit mehr Flammen. 
Ich folge Papajis Anweisung: "Gieß mehr Benzin drauf!" 
dein Bruder
Ákos