Dear Gangaji and Eli,
A letter seems to want to be written, so here it is: a report to let you know how this form is being used, how the Truth moving through this form is being used. Gratitude wants to be expressed over and over and over.
The Leela School has been a profound gift, a beautiful crucible of burning and deepening and a deliciously supportive sangha. Wonderful skillful means to be used. Layers of doubt are dropping and the fire of Truth burns brighter with more and more steadiness and certainty. I love the sessions I do in trade with fellow students from all over the world – beautiful connection!
---

Writer's Digest, October 24, 2018
When I wrote An Outlaw Makes it Home, I had written several other books but nothing this personal. Since I have never read any advice on writing a memoir, these tips are only from my own direct experience.
In my 20s, after an amazing set of adventures in the 1960s, I orally told my stories as a way of seduction. I was a good story teller and became better after we smoked a joint together. But those stories were casual, episodic moments without a coherent core.
When I was 60 and facing death from an incurable blood and bone cancer, I reflected on what I would like to leave behind after I died. While undergoing chemotherapy and stem cell transplants, and confined to my bed, I wrote Songs of Freedom, a poem that encapsulates everything I had realized and wanted to pass on.
---

by Hélène T. Stelian, July 25, 2018
What is your life's purpose? 
To serve world peace and freedom through everyone waking up.
How are you living your purpose? 
I have given my life to pass on what has been given to me: a direct realization of my true nature. I do this by meeting with people in events around the world and by training a staff of trainers in the skills of passing it on.
---

The Native Society, July 24, 2018
Bio:
Eli Jaxon-Bear is the author of An Outlaw Makes It Home, Wake Up and Roar, Sudden Awakening, and Fixation to Freedom. He has worked as a mailboy, dishwasher, steel-worker, teacher and organic farmer. He was a community organizer with VISTA in Chicago and Detroit before entering a doctoral program at the Graduate School of International Studies in Denver, Colorado. He has been living with his partner and wife, Gangaji, since 1976. They currently reside in Ashland, Oregon. Eli meets people and teaches through the Leela Foundation.
---

The Primal Happiness Show, Episode 194, 2018
This week's show is Eli Jaxon-Bear, the author of An Outlaw Makes It Home. A life long search for freedom took Eli around the world and into many spiritual traditions from a Zen monastery in Japan to a Sufi circle in Marrakesh, among others. His search ended when he was drawn to India (1990) where he met his final teacher, Papaji; a direct disciple of the renowned Indian Sage Ramana Maharshi.
Confirming Eli's realization, his teacher sent him back into the world to share his unique psychological insights into the nature of egoic suffering in support of self-realization.
---

Conscious Connection Magazine, June 17, 2018
Our Declaration of Independence states that we are all created equal and enjoy the rights of "life, liberty and the pursuit of happiness."   The sad joke here is that the "pursuit of happiness" almost never leads to lasting happiness, whether for George Washington or anyone else. Before we examine why that is, and a way to true happiness, a disclaimer from me:
I grew up neurotic and unhappy with no expectation of ever being happy. I looked around and saw that no one that I knew was happy and everyone was faking it. So I gave up on happiness at a very early age.
And yet, I have actually found true happiness and fulfillment. This has been my condition for almost thirty years through all the vicissitudes of life. That does not mean having a smiley face all the time nor does it mean not feeling sadness, pain or anger as there is a time for everything. I was not happy about having cancer and facing my death, but it also did not touch the underlying bliss of life. This happiness is everyone's birthright.
---
"I don't know what's going on right now. I wanted to meet you for the first time. I've met you before, but never really met you. I had an experience last week of being here, and it's so delicious, but if I look for it I can't find it." "That's right" "But it doesn't go away" "That's right, because if you look for it you're looking away."
---
We're here only for the Truth. The Truth will set free. If what you want is the truth more than anything, the truth is the burning ground of freedom. If what you want is anything else you'll miss the mark. If what you want is bliss, well there is lots of experiences that can give you bliss. If what you want is peace there are lot of things that give you a kind of peace, you can get numb, you can have an IV drip, you can take pills, to get a kind of peace. So peace is a byproduct, I love true Peace it's beautiful, but if that is all you are going for you are missing something essential…
---
I had a profound awakening in 1971, a classic enlightenment experience. I'm a product of the sixties. I was extruded through that mold. You know, so those of you who are of my same generation, you get extruded through the mold like the cream comes through the cake mold, right, so whatever the particular time and moment of your incarnation that's the flavor that we take on. So that was my flavor was the sixties, so it was a time of rebellion for me. Time of trying to find freedom, trying to find freedom through the politics, trying to find freedom through society, demanding freedom, fighting for freedom. And finally finding myself in fighting against the war in vietnam a federal fugitive and not knowing what to do. We all have crossroads in our life, certain choice points, certain moments where we have to either choose from our heart or choose from our head and I was at one of these dilemma moments…
---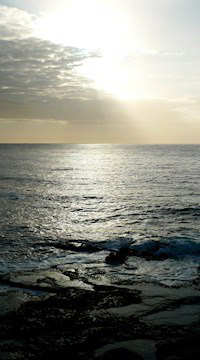 Perhaps in the past our tendency has been to have a concept of ourselves as a peaceful person and then discipline ourselves to try to look or act as we thought a peaceful person should. When we have not lived up to our own concepts or expectations we fight with ourselves. But I am not addressing concepts here or any training of the personality.  The possibility I am suggesting is deeper than any concept and can not be learned or imitated.  The possibility for each of us is to realize that peace is already alive and present in this moment.  When I use the word "peace" I am referring to a quality of intelligent conscious love.  When you realize yourself as intelligent conscious love, peace will be a by-product of the direct realization of yourself.
To merely believe that you are intelligent conscious love, or to understand it, misses the point. Believing or understanding requires a concept or thought of yourself. In the noise of thinking this concept you may miss the mind-blowing, direct experience of realization.  This direct experience is essential in order for peace to establish its presence in your heart.  To realize your true Self directly, with no thought or concept, is to realize what is already free and at peace. Each one of us on Mother Earth, here and now, can realize this directly; each one of us, one by one in our own hearts, can realize the absolute truth.  Then peace is actually a by-product of that direct realization.
---
A COLLECTION OF INTERVIEWS

Eli has many beautiful interviews, in many Eli explains exactly what it means to wake up, the power of truth telling and the possibility of recognizing true joy as our essential nature.

LINEAGE, SATSANG & ENNEAGRAM VIDEO COLLECTIONS

Watch these teaching videos in which Eli shares his unique psychological insights into the nature of egoic suffering in support of Self-Realization.

SERVING LOVE AS A TRUE FRIEND

We are committed to the whole world waking up from the personal trance of suffering. We can make a difference one heart and one mind at a time.