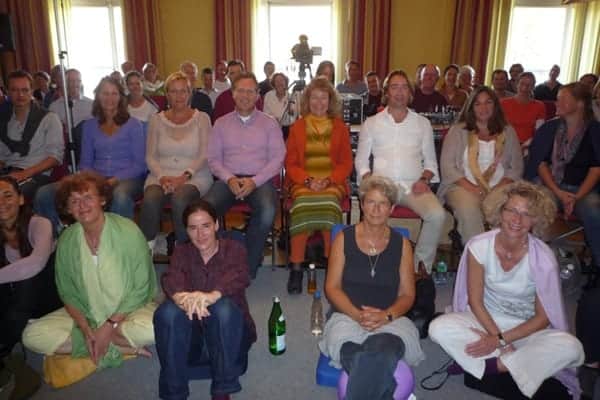 "I do not know how much time this body has left. We all have an expiration date stamped into our genes and reflected in our circumstances. But as long as there is life breathing in these old bones, I will be sharing what I have realized. I invite you to join with us if you are called from your heart"
~ Eli
The European Three-Year Group Retreat is held every year in Baden-Baden, Germany.
Intention
The intention of the Three-Year Group with Eli, first and foremost, is passing on the precious, holy incomparable gift of Papaji: the living presence of truth and silence. With this living silence realized as the seat of the heart everything that shows up is useful. From this primary transmission come secondary teachings relative to the historical conditions that humans find themselves in. As consciousness evolves, the secondary teachings evolve and change as well. Something fresh and free is always appearing in this moment to support deeper realization of the Self. Eli's intention is to offer support for continued deepening in this realization as well as to share the wisdom gained through his experience in meeting the traps and tests along the way.
Commitment
This Retreat is a three-year commitment to yourself and others to put your attention on the True nature of your being, a commitment to offer and receive support in living an awakened life. This commitment may be tested by circumstances and feelings. That testing will show the value of taking a stand.
Gatherings
We will join with the same group for ten days, once a year over a three-year period. During this time we will usually meet for three sessions a day and sometimes have a retreat within the retreat, which is a day of silence. The meetings themselves consist of satsang, group exercises, movies and other activities such as day trips in nature. Through all of this Eli brings his master's transmission of silence. In coming together intentionally with the same group of participants over this period of years, there is the possibility to establish a safe space for exploration, inquiry and reflection. It is the chance for you to offer and receive true and loving support for the capacity of awakening in all.
Monthly conference calls with Eli
Monthly conference calls with Eli and others from around the world are an important part of the Three-Year Group. You will be able to be with Eli, ask questions or give reports and share within a smaller group. These calls are using Maestro technology and only require you to have a phone to participate. You will be given more information on the calls once you have joined the Three-Year Group.
Prerequisite
Prerequisite for the Intensive Retreat with Eli is having attended an Enneagram Retreat, Advanced Enneagram Retreat or a Lifting the Veils Retreat.
For more information
, please contact Hannelore at +41 22 757 00 03 or email at
info@leelafoundation.de
Yearly Tuition
€1200